Here is a selection of the quality antique English fusee dial / wall clocks we have for sale. If you would like further information about any of these clocks please telephone (01926 400630) or email:
clocks@summersons.com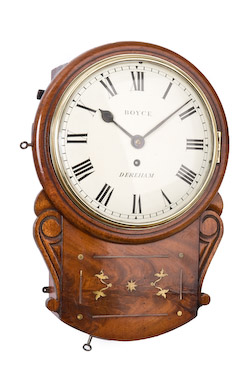 Small convex dial wall clock
Good interesting 9 inch convex dialled fusee wall clock. The case with brass inlay to drop section. Side locking cast brass bezel. Dial signed Boyce Dereham. working 1822- 65.
£1,800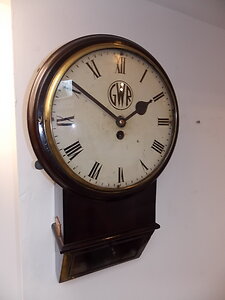 Good mahogany cased, chisel bottom, cast bezel, wooden dial with GWR logo and ivory plate to side. Movement signed Vulliamy with correct Vulliamy pendulum. One of only four known clocks supplied to GWR by this maker. £9500.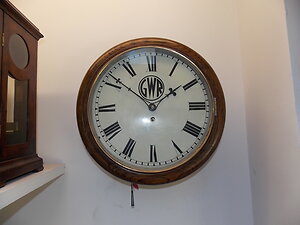 Good plain oak cased GWR wall clock with GWR logo to 12 inch dial, and numbered plate to side. Ex Cardiff docks.
£1650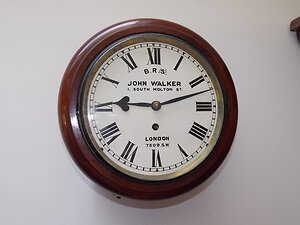 Good original 8 inch fusee railway clock. Supplied by John Walker in 1898. case and dial numbered 7509. LSWR , originally at Wimbledon Enquiry office. £1700.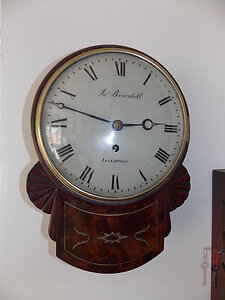 small mid 19th century wall clock with 8 inch convex dial by Brownbill Liverpool. Fusee movement with shoulderd plates. £1650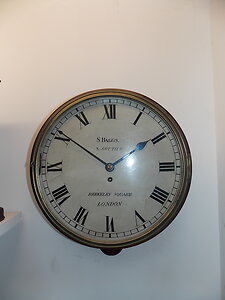 Early georgian wall clock, 13 inch wooden dial, anchor escapement, pegged salt box case, locking cast bezel. Signed Baggs , Berkley Sq. London. No.3 South St is now the corner of the BMW showroom on Park Lane. SOLD.